Custom Orders
"Nothing I make is mass produced, each cup is custom hand-made and unique. No two look the same, ever."
-Christin

Interested in a customer order? follow the steps below
---
Let's start with the basics. Pick the cup that speaks most to you.
---
Have a quote or name in mind for your creation? Great! pick a font that looks best to you, Well share personalization details soon.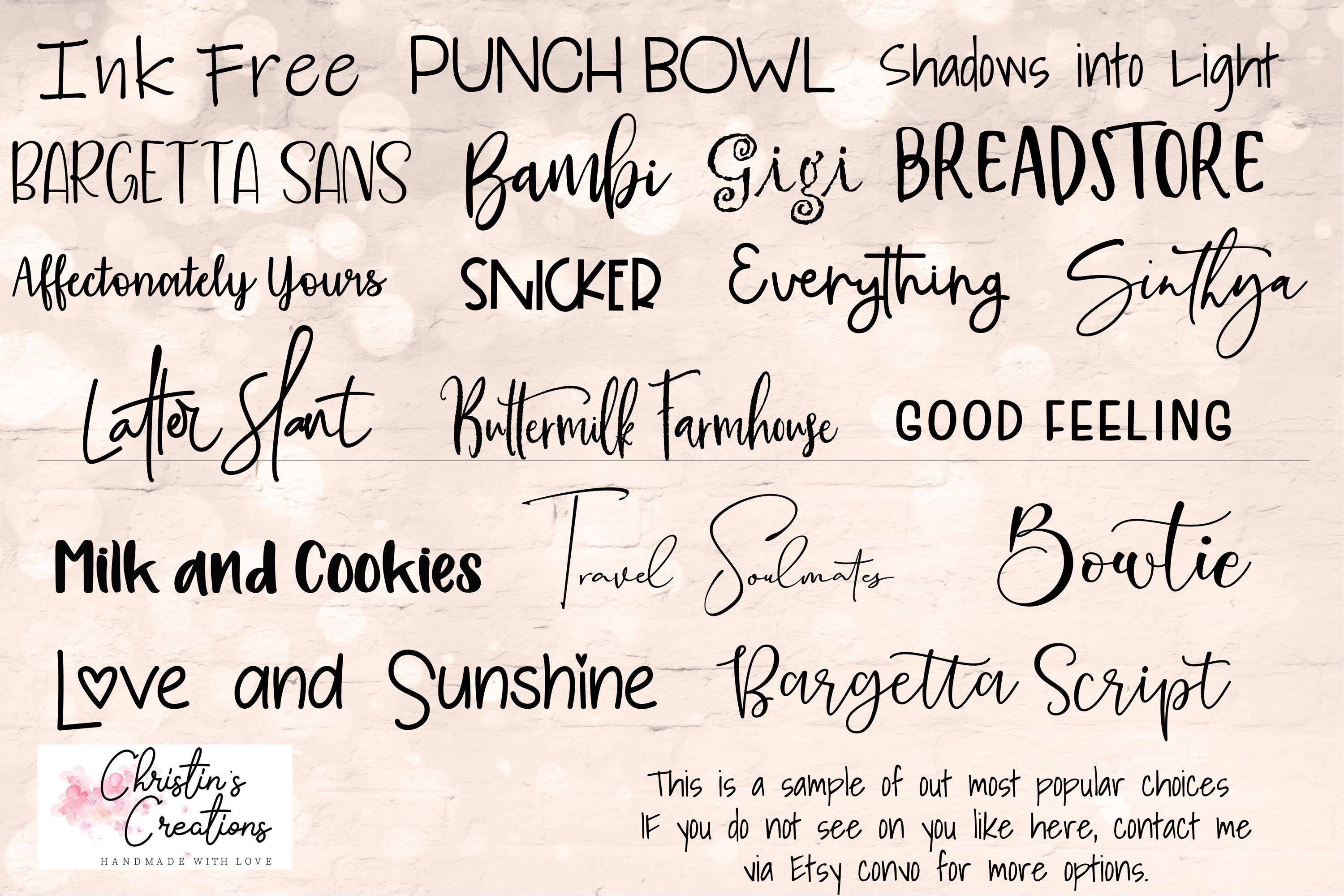 ---
Isn't this fun? next pick your vinyl color. Like more than one? No problem we can add as many colors as you can dream up!
---
We have over 200 glitter options, and can guarantee that we have what you are looking for!
When doing a custom order, its best to give an idea of the colors you have in mind and when your order is ready to be started, Christin will contact you finalize your choices.
Decals, Photos, and Quotes
Are you looking to add something specific to your item? No problem! After you fill out the custom order form below simply email me your files @ Christintheiss@hotmail.com.

Are you looking for something to be created? We can do that too! enter the details in the form below and Christin will contact you to begin the process.

---
Are your ready to place your order? All you need to do it fill out the form below. If you have pictures or graphics you would like added to your cup, please email them to christintheiss@hotmail.com.  In the subject line, enter the name used in this order along with the date submitted. Once your order is ready to start production, I will be in contact most likely via TEXT to confirm all the details, go over cost, and take payment. IF you prefer emailing, that is fine too. Just let me know which is easier for you.
If you have questions before that time, don't worry, you can contact me at anytime at christintheiss@hotmail.com.
* Orders will not go into production until payment is made. Once your have been invoiced, payment must be received in 24 hours. If payment is not received in 24 hours your order will be canceled.*

Christintheiss@hotmail.com

It absolutely makes my day to see happy customers! Please feel free to send a message with any questions!

Sign up to hear about the latest news and exclusive offers